November 2, 2022 | Alaina Leech
2022 Harvest Recap
California had a rough start and finish to the 2022 Harvest Season with early Spring frost, which damaged some buds and an intense Fall heat wave that required a scramble to pick early, both of which contributed to lost crop. Overall it was a dry/warm year which is pretty typical. Michigan 2022 Harvest Season also had a rough start and finish with a cool Spring, which delayed bud break, to a cold October with nine straight days of rain. The cool October, as well as it is being a high acid year, resulted in picking some red late-ripening varieties earlier than planned (Merlot and Cabernet Franc). The majority of the season was great, though, with a long and warm Summer.
Harvest Highlights:
We've added a new vineyard, Devil's Dive Vineyard, on Old Mission Peninsula, to our lineup. Harvest started by picking Pinot Meunier, Pinot Noir, and Chardonnay from Devil's Dive Vineyard for our first vintage sparkling wine, which will be made in the traditional method and ready for release in 2025. But don't worry, you won't have to wait that long to drink some BOS bubbly, as we will continue making Methode Agricole, our pet nat style sparkling made out of Valvin Muscat grown at Crystal Vista Vineyard in Interlochen.
It could not have been a more beautiful and sunny day picking Blaufränkisch from Ten Hands Vineyard on Old Mission Peninsula for our last pick day of the year. It was a full family (and team!) affair!
BOS Family Harvest Stats
Jackie's 12th Harvest

Della's 2nd Harvest

Olsen's 2nd Harvest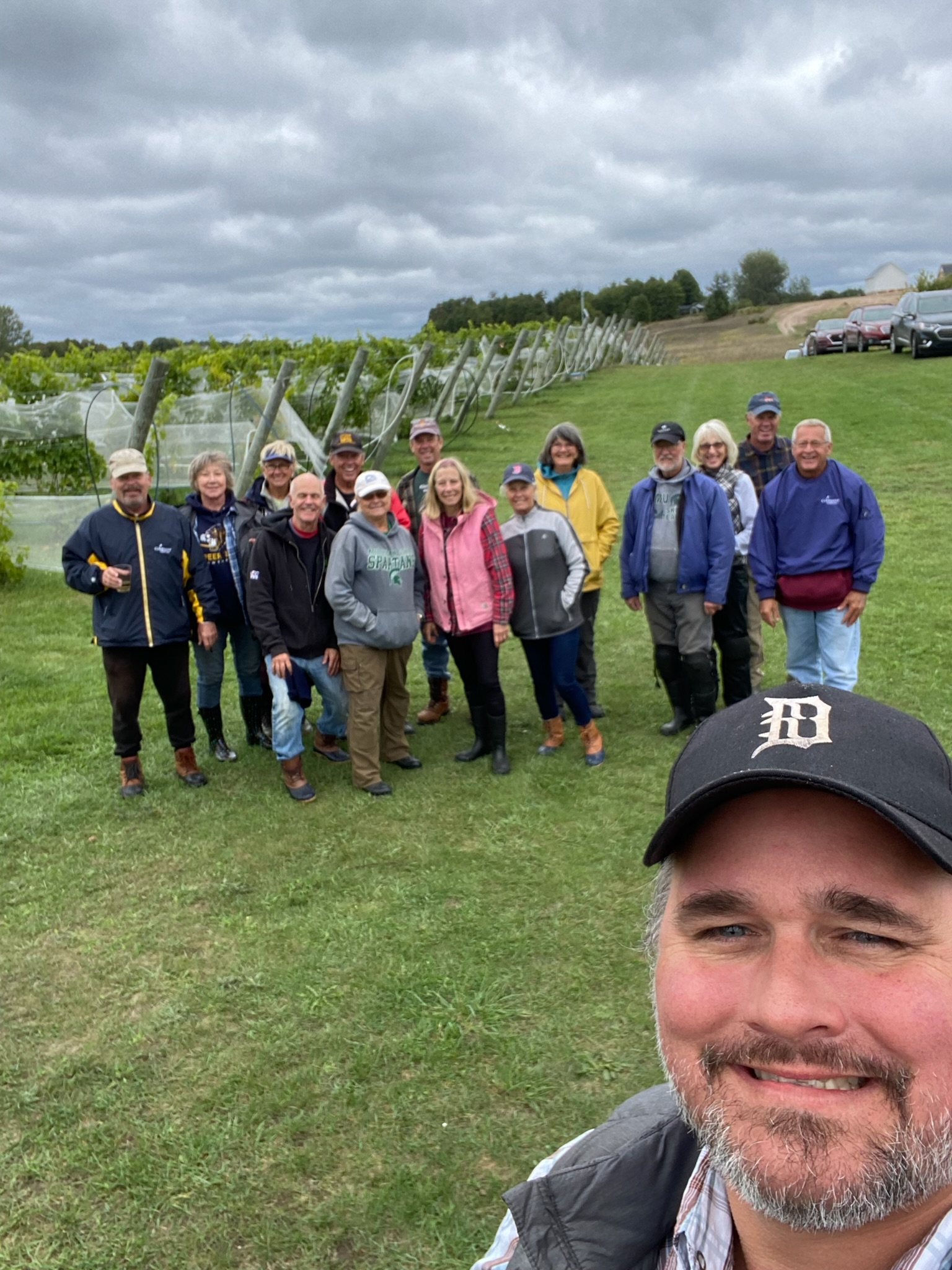 So Grateful For Our Growers
We are so lucky to work with such a dedicated group of growers and are thrilled with the fruit quality this year. Each pick date was successful and we're fortunate that all of the growers help each other during harvest. Here's a photo of us at Brigadoon Vineyard on Leelanau Peninsula after a day of picking Pinot Gris. As we always say, good wine starts in the vineyard, and we have our growers to thank for their meticulous farming and vineyard management.
Making Wine at Modales!
We are thrilled to be making our Michigan wine this year at Modales Winery in Fennville. Dave and Andrew Backlin, the talented winemaker at Modales, have been friends since meeting at City of Riesling over five years ago and connecting over their California connections. Andrew is from California and worked for the prestigious Duckhorn Vineyards and Dave having worked for Grgich Hills Estate before moving back to Michigan. They've since bonded over their shared passion for making great wine from biodynamic/organic farming methods and pristine techniques in the cellar.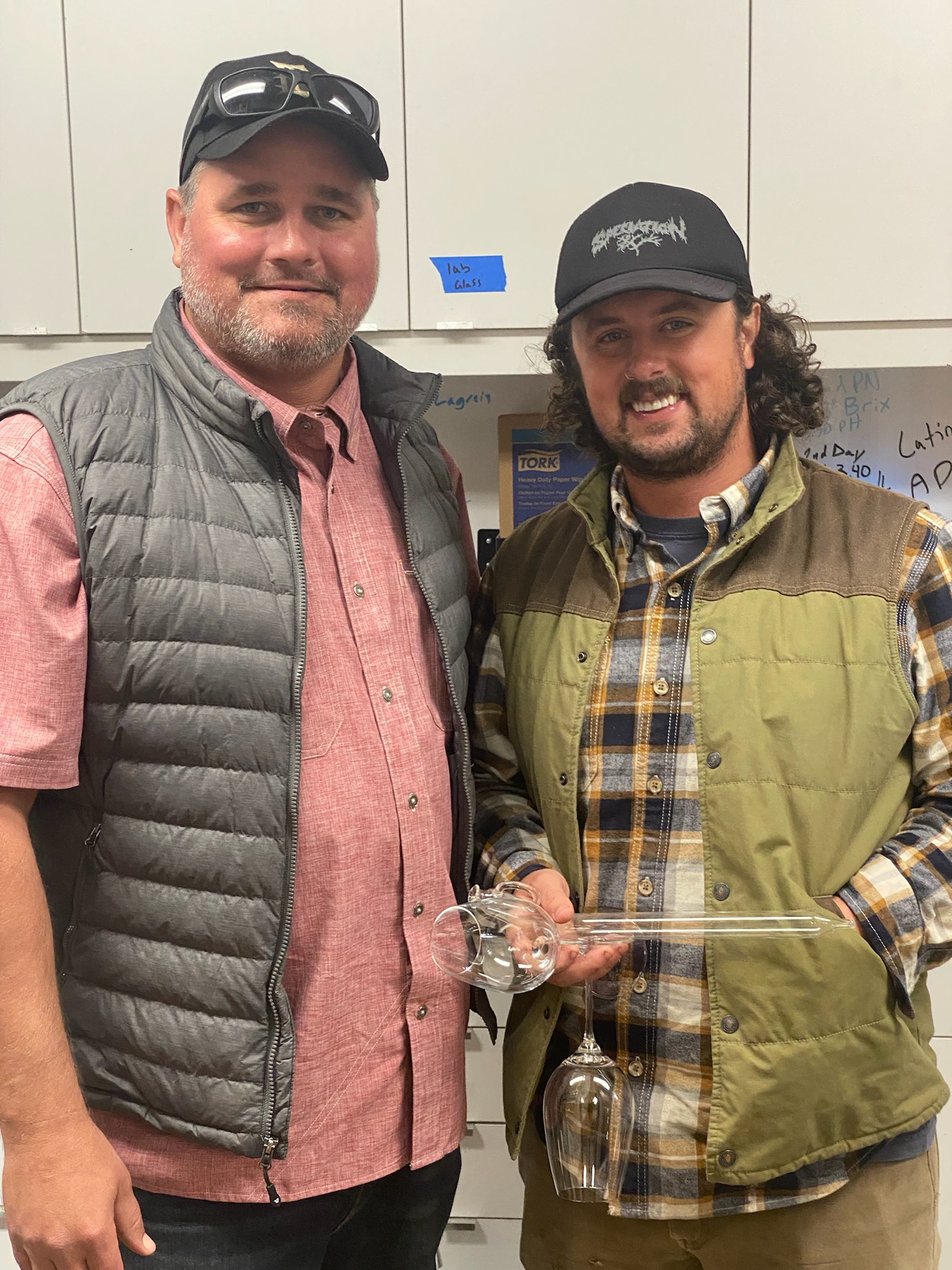 Cheers to 2023 bringing more Riesling, Pinot Gris, Valvin Muscat, Chardonnay, Marquette, Blaufränkisch, Syrah, Cabernet Sauvignon, and Petite Sirah your way!
Comments
Commenting has been turned off.