The Bos Wine team wholeheartedly believes that good wine is made in the vineyard. Dave is so passionate about farming that he has made it his life's work. It's translating into incredible wine, which is why we are so excited about the Tasting Room opening so that you all can try the literal fruits of his labor. Dirt is his specialty, and by that I mean, biodynamic and organic farming. He caught the good dirt bug while living out in California's wine country and managing vineyards that practice biodynamic farming. So what exactly is biodynamic farming?
A biodynamic vineyard is farmed with all components of the vineyard as one whole entity, using natural materials and composts and eliminating chemicals. From pruning to harvesting, the biodynamic calendar controls the farming practices. In day-to-day practice, the goal is to create a farm system that is minimally dependant on imported materials and instead meets its needs from the living dynamics of the farm itself. The farm's biodiversity is organized so that the waste of one part of the farm becomes the energy for another, which increases the farm's capacity for self-renewal and ultimately makes the farm sustainable. Time to Dig into Goodness!
Dave has managed the farming and consulted on many vineyards in California that are biodynamic certified. Now, he is working hard at changing farming here in Northern Michigan by helping local vineyards move towards organic and biodynamic farming practices. The proof is in the wine!
We thought it would be fun to take you through a little tour of the vineyards we work with to get a sense of the terroir, the farmers, and the specific varietals used to make Bos Wine.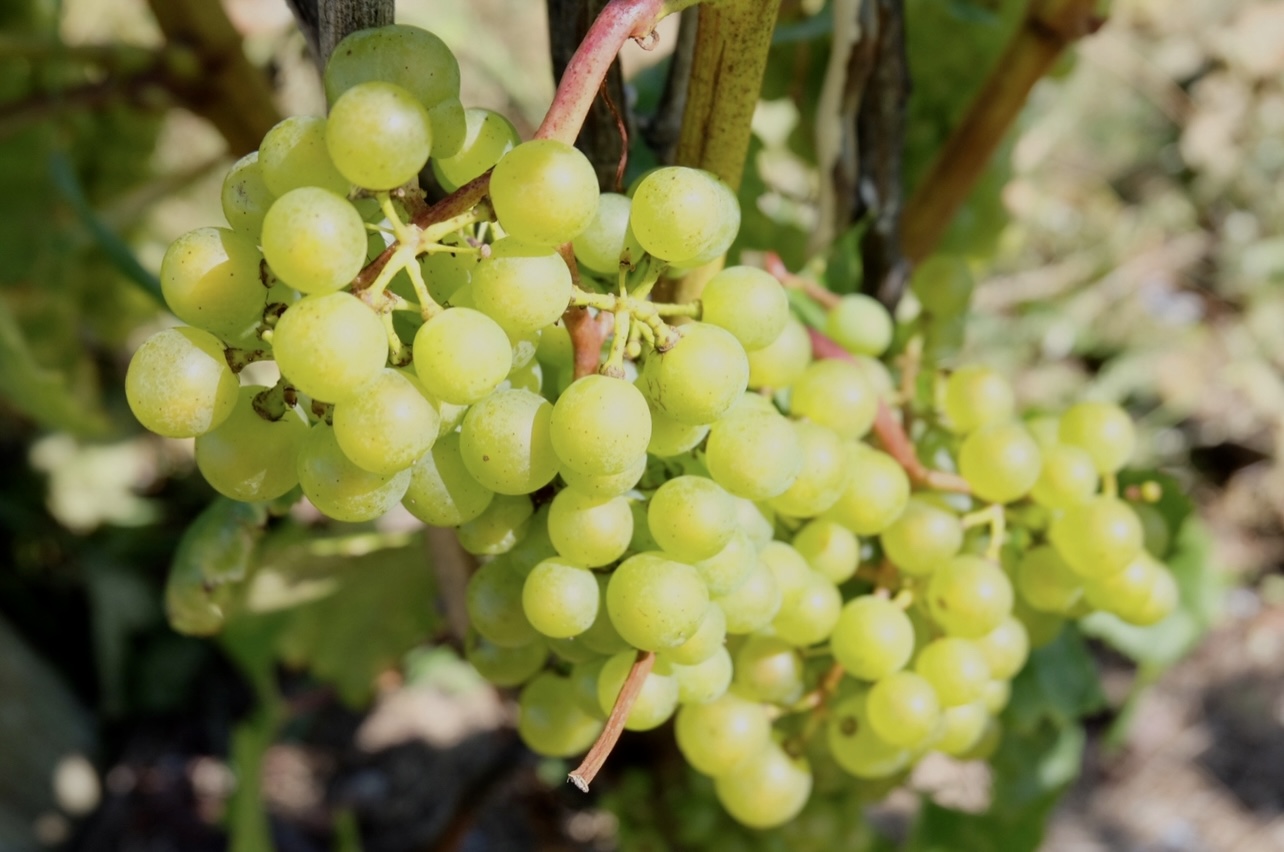 Michigan Vineyards
Ten Hands Vineyard faces a cool East Bay, situated on the northeastern shore of Old Mission Peninsula. The soil is sandy loam with mixed concentrations of clay and gravel. The glacier movements mixed the soil, so it both drains well, has very little concentrated sand, contains moderate humus, and is slightly alkaline in pH. For fruits, including grapes, this is ideal. Tom and Claudine enhance the soil with annual compost additions by planting a vast mix of grasses and legumes in the row middles. We are using their Chardonnay and Riesling varietals.
Next door to Ten Hands Vineyard is Vineyard 15, named after its owner, Vinnie Johnson, who some of you may know as "The Microwave," which was his nickname while playing professional basketball on the Detroit Pistons. His number was 15. Tom Petzold is also managing Vineyard 15, and we are using the Blaufränkisch grapes for our rosé. This is a younger vineyard, and Dave is excited to continue to grow the organic and biodynamic practices here.
Brigadoon Vineyard on Leelanau Peninsula is where we are getting our Pinot Gris. It sits up a bit higher and has sandy loam soil with a westerly facing slope. Its owner, Adina Klim, takes great joy in farming and has a real passion for it. Dave has been helping them from the viticultural side and will be continuing to plant vines there.
Rounding out the Michigan vineyards is Crystal Vista Vineyards, owned by Mike and Darlene Heuser, outside of Interlochen. The varietals grown here are Valvin Muscat and Marquette, and Dave's especially excited about these winter-hardy varietals because he has never worked with them before. These two do a great job farming their vineyard, which is the only vineyard on the block.
California Vineyards
We get a lot of our Syrah from Golden Vineyards located in scenic Mendocino County, and Dave consulted with them for many years. We continue to work closely with Julie Golden and get Zinfandel and Cabernet Sauvignon from her in the future. Golden Vineyard has been Demeter (biodynamic), and Organic certified for over 20 years.
The first wine we ever made was a single-vineyard Syrah, our 2010 Phoenix Ranch. Phoenix Ranch is located northeast of the town of Napa on a gentle hillside composed of pebbly ash and loam soils. The vineyard is farmed biodynamically by Brian Phoenix, bringing out site-specificity and the most complexity possible in the fruit.
Dave started working with the Apallas family, owners of Soda Creek Vineyards, in 2011 when they hired him as a biodynamic consultant to eliminate harmful chemicals and instead rely on organic solutions for weed and pest control. In addition, the beautiful gardens and farm animal inhabitants (chickens and goats) create biodiversity and help maintain a thriving ecosystem. Soda Creek Vineyards is located in Napa, California and our Cabernet Sauvignon and Sauvignon Blanc come from these vineyards. This is a timeline graphic that they have on their website, and I love it:

A combination of other backyard vineyards makes up DEO. Dave carefully chooses the best Cabernet Sauvignon from the best vineyards for this wine. Each vineyard chosen is approximately ½ acre and is located from St. Helena to Calistoga.
We hope that you see (and taste!) our passion for vineyards and wine through our boutique label. We are beyond excited to showcase our Michigan and California wines in our tasting room in Elk Rapids, Michigan.