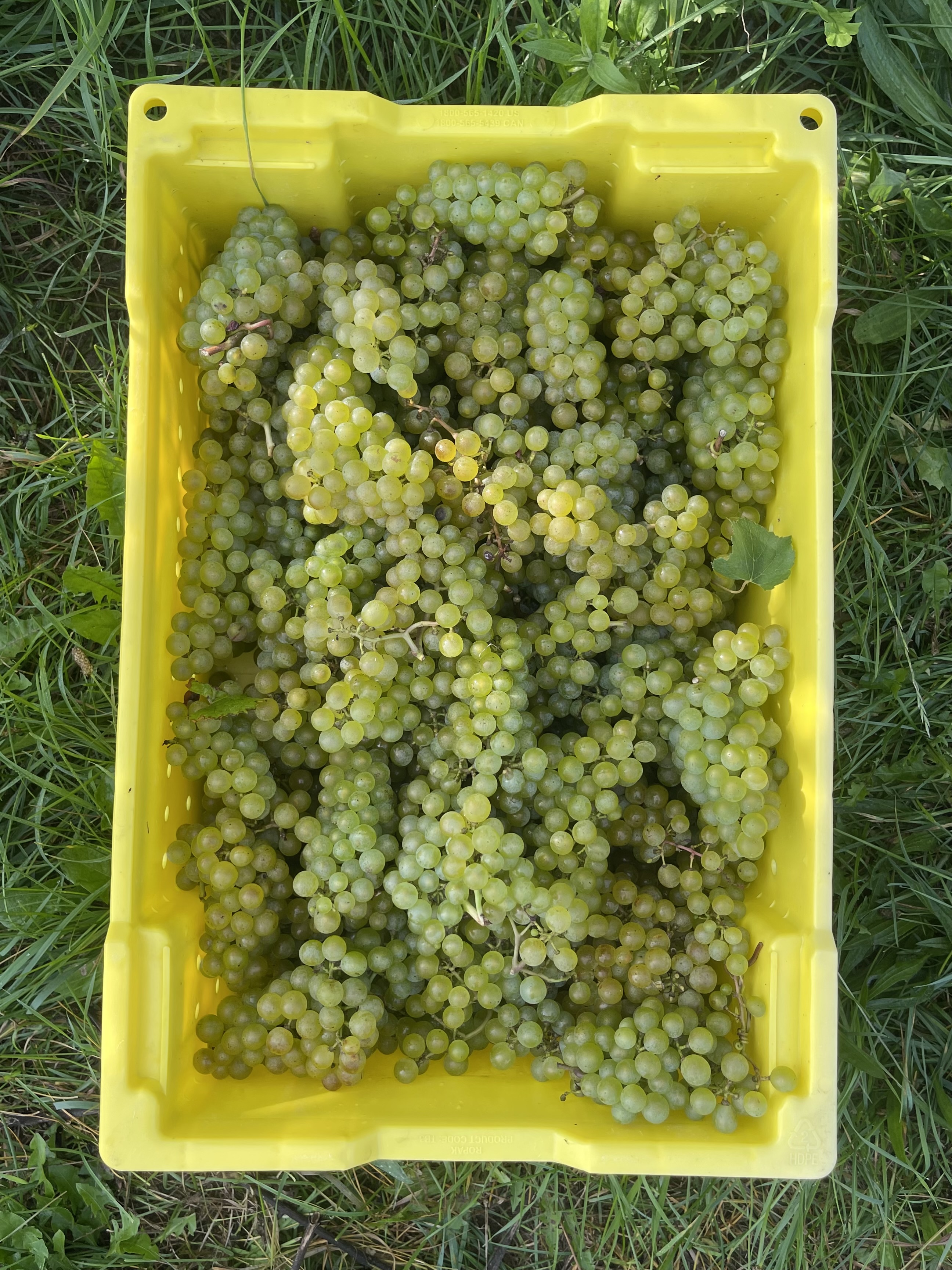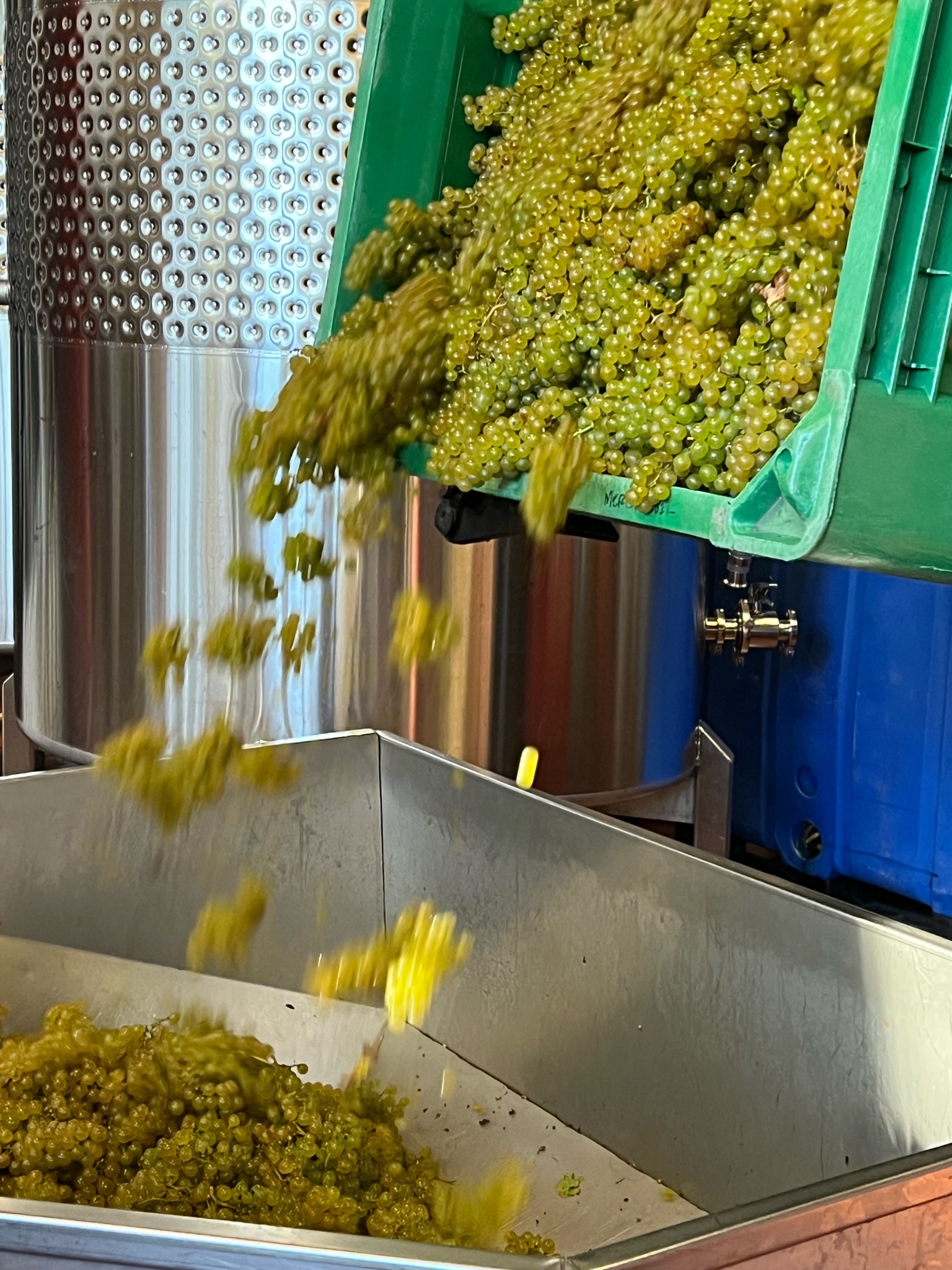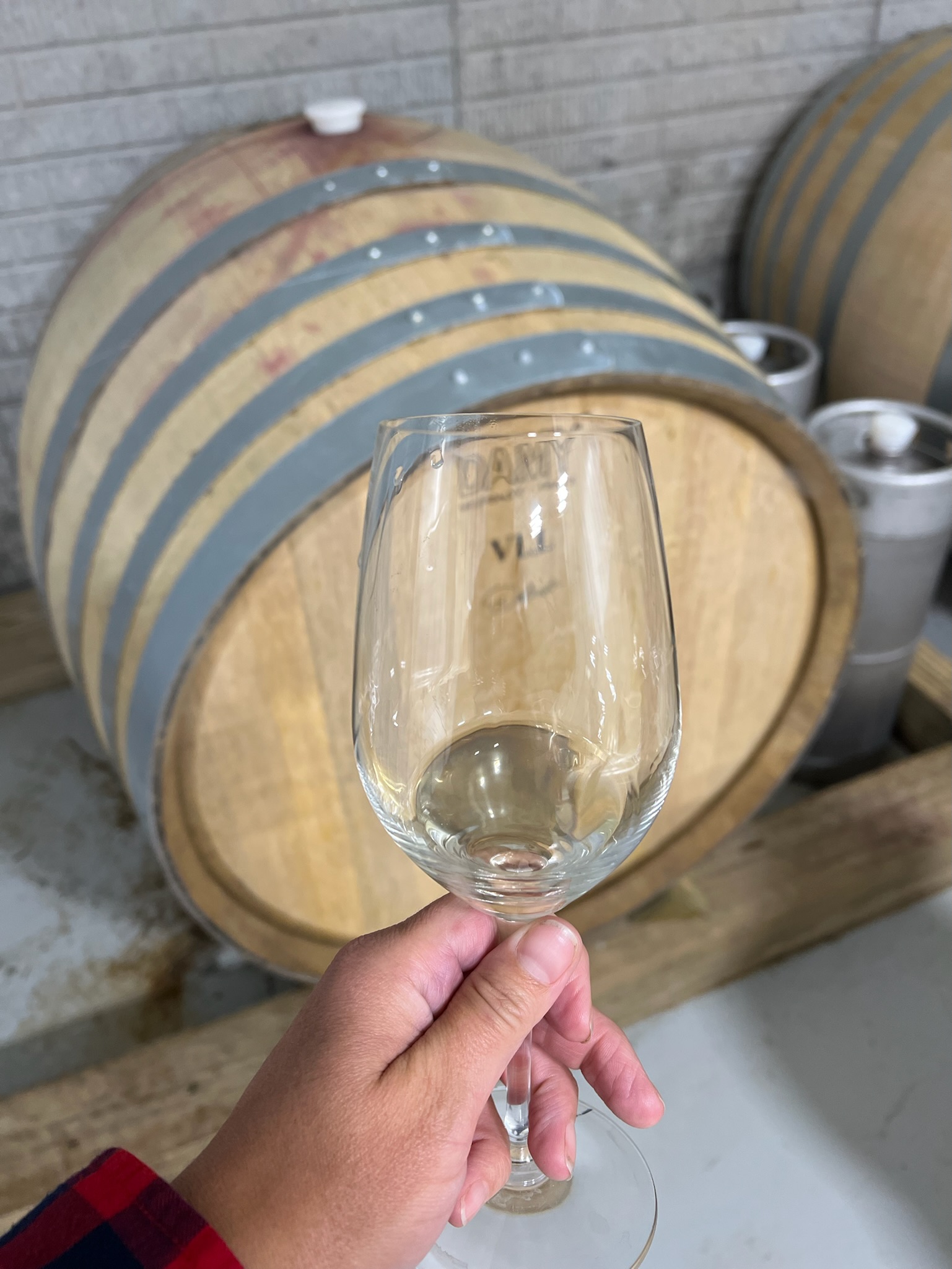 As we slide into home after Harvest, one thing is clear about the 2023 vintage...the quality is excellent across the board. Because we had such a hot and dry August and September, we could pick exactly when we wanted, which is only sometimes the case with unpredictable Michigan weather. A very wet winter and spring in California kept the vines dormant for a few weeks longer than usual, so everything was tracking late from the get-go. This allowed the fruit to remain pure and bright with good acidity, and even though many sites required extra hangtime to reach full phenolic and flavor ripeness, this is a winemaker's dream regarding wine style.
Sampling
The entire BOS team helped out during Harvest this year, and it was so nice not only to have the extra hands but also to engage the team behind the scenes. Betsy helped Dave out with sampling during Harvest. Sampling allows winemakers to assess where the grapes are in their levels of Brix, titratable acidity, and pH to pick them at the ideal ripeness. Grapes need to be sampled often as weather continues to change throughout the Fall, and different varieties of grapes adjust to the weather and ripen at different time frames. Now that the grapes are harvested, she said she "can't wait to see what the 2023 vintage brings!"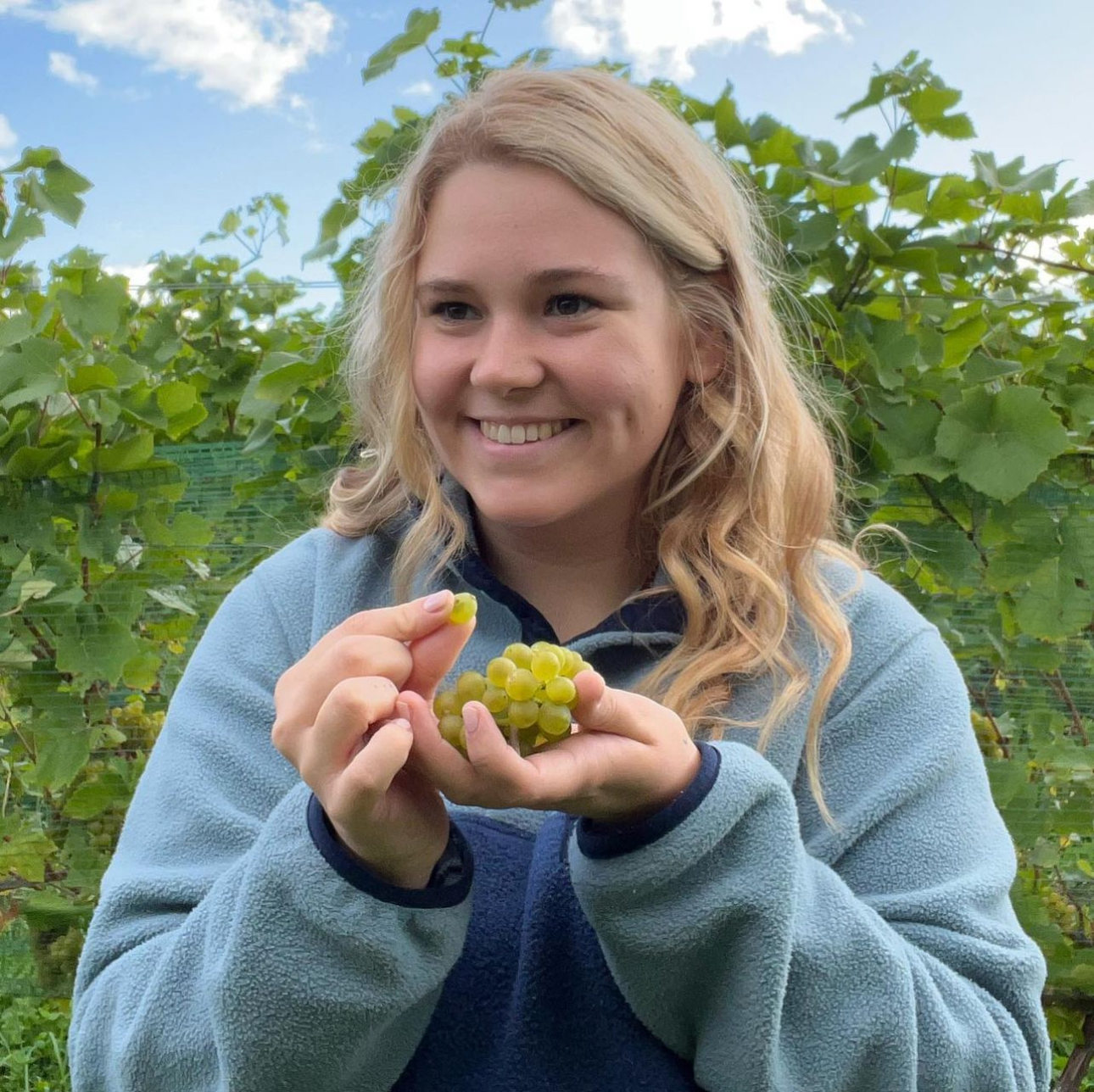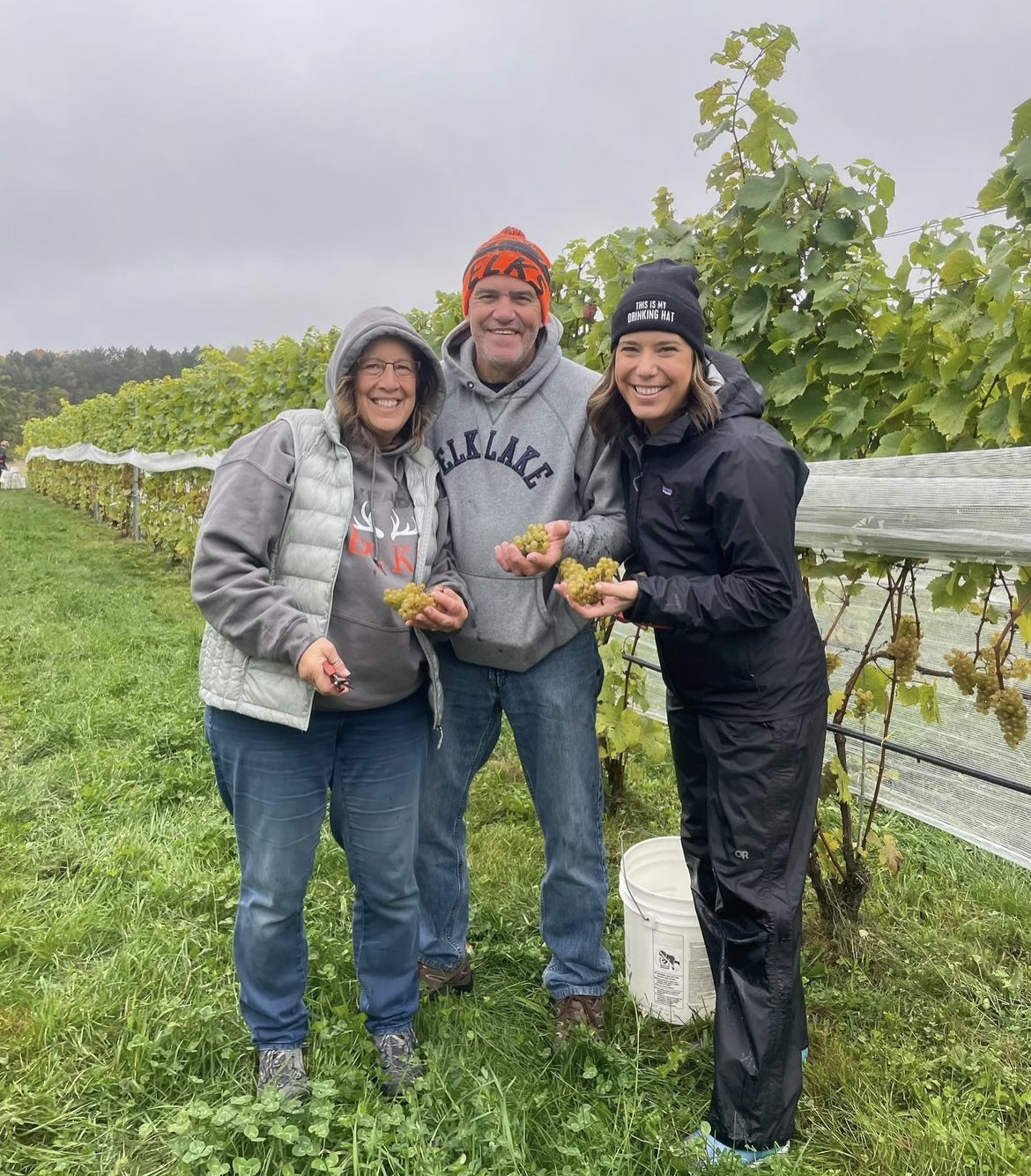 Harvesting
Trinet helped harvest grapes from 10 Hands Vineyards. She said, "It was a treat to be joined by my parents, who were eager to participate. My dad got to try a 'wine grape' straight from the vine, which he enjoyed. My mom was delighted to help with Harvest for the second year. The chardonnay looked lovely that day, and I'm patiently waiting for it to hit the tasting room. I also got to peek in on my favorite BOS Wine, Amber, during its stage of fermenting on her skins (yes, Amber is a she because she is a goddess of perfection in wine form) and teach my brother about the goodness of orange wine. So much is happening, and it's hard to contain my excitement."
Production
Elizabeth helped out on the production side and visited both production facilities throughout the 2023 harvest. She said, "On the first day of BOS harvest, I spent time both in the vineyard and Boathouse production facility. Chardonnay for BOS traditional method sparkling was first up, and it was so fun to see and taste the fresh press juice for the cuvée and observe how the production method differs when doing sparkling versus still wines. Bill and I visited weeks later and saw how much had changed and how it was developing. It was so interesting to hear Dave and Doug share what they are tasting and looking for at different stages of fermentation. I also visited Left Foot Charley's production facility on several occasions. I tasted some BOS wines at different fermentation stages and was on site for the incoming fruit and pressing. I was impressed with how Bryan and the team worked together to bring the fruit in and out, sorting, pressing, and moving equipment with precision, speed, and patience for people like me! They make processing the amount of fruit that comes through the facility look effortless. It is fascinating to see and learn about all the different vessels used for different varieties and styles of wine. I'm so excited for all the BOS wines currently fermenting in both locations!"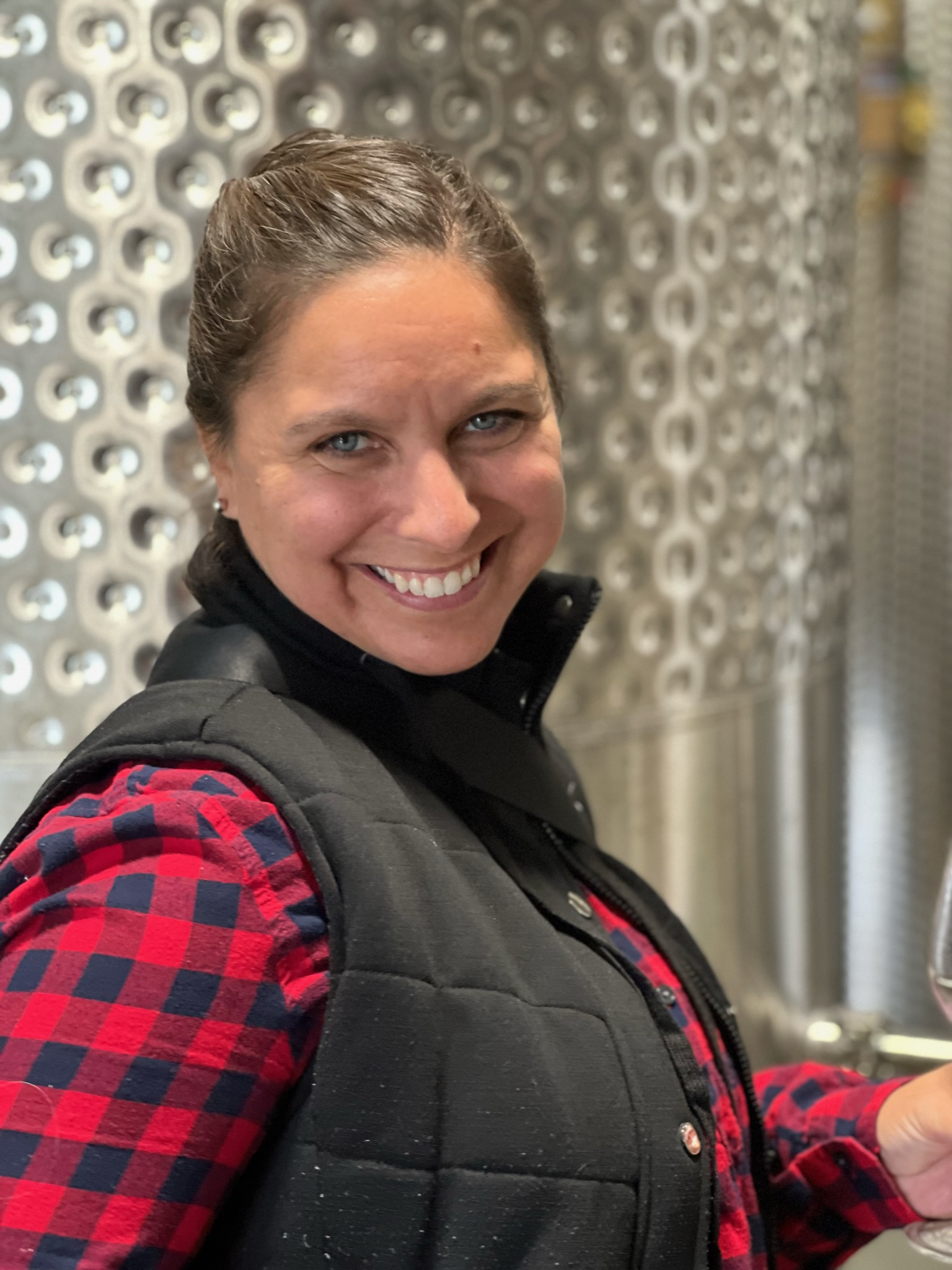 We are working with Bryan Ulbrich, winemaker and owner of Left Foot Charley Winery, and Doug Olson, winemaker at Boathouse Vineyards to make our wine this year. Bryan is making our whites, and Doug is making our sparkling and red wines. We feel lucky to collaborate with and learn from two highly talented winemakers. They each have their own techniques and styles but operate with the same philosophies of minimal intervention in the cellars, commitment to enhancing Michigan wine, and extreme passion for quality.
Our 2023 Michigan fruit includes Valvin Muscat and Marquette from Crystal Vista Vineyard in Interlochen, Pinot Gris from Brigadoon Vineyard on Leelanau Peninsula, and from Harper's Ridge on Old Mission Peninsula, Chardonnay, Pinot Noir, and Meunier from Devil's Dive Vineyards on Old Mission Peninsula, Chardonnay and Riesling from 10 Hands Vineyards and Blaufränkisch from Vineyard 15, both on Old Mission Peninsula. In addition to Methode Agricole, Wishflower, Interlochen, and Amber, we will be making more single-vineyard Riesling, Pinot Gris, Pinot Noir, and Blaufränkisch this year, as well as three different traditional method sparkling wines. Stay tuned for California fruit updates as Dave is heading there in January.
Dave, Jackie, Della, Olsen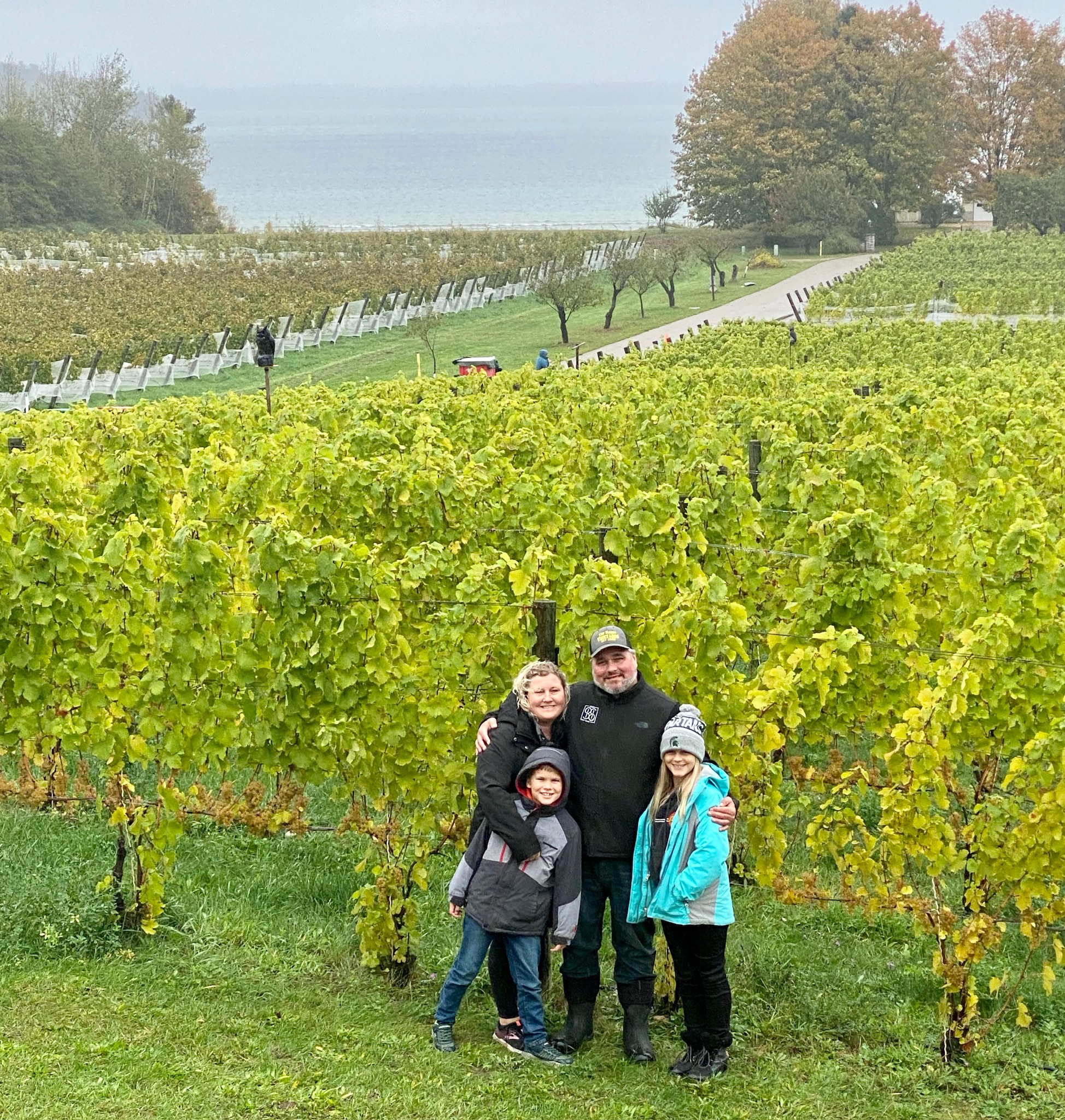 Thank you!
We continue to feel immense gratitude for our growers and their meticulous farming. Bringing in clean fruit is our #1 priority, and we are so lucky that our growers care about that as much as we do.
This year was Dave's 20th Harvest, Jackie's 13th, Della's 3rd, and Olsen's 2nd. Now it's time to get excited for the upcoming wines because that's a wrap on 2023 Harvest!